June 20, 2019 – Reykjavík, Iceland – CCP Games, the creators of the in-depth and uniquely player-driven spaceship MMO game EVE Online, is about to kick off EVE North, the first officially hosted EVE Online convention to occur in Canada. This is the fourth event of the year-long EVE Invasion World Tour, a global series of Capsuleer gatherings, bringing EVE Online closer to its community than ever before. On June 21, EVE North begins a weekend-long EVE-fest in Toronto, at the Delta Hotels Toronto, where EVE Online developers eagerly await mingling with the attending EVE Online community, on-site and online.
"The first official EVE event in Canada's proud history will take place in beautiful downtown Toronto in partnership with EVE North, the stalwart organizers of countless, regular local meets," said Bergur Finnbogason, Creative Director of EVE Online. "We're looking forward to celebrating all things New Eden with our Canadian capsuleers, and to showcasing the latest activity from both the EVE Team and our community to our pilots across the globe."
Tickets for EVE North are now sold out, but fans can still join in on Saturday 21st June for the first day of the action via the livestream on on CCP's Twitch channel. The full EVE North presentation schedule can be found in CCP's EVE North Megablog. As round four of eight EVE Online fan events that make up the EVE Invasion World Tour, EVE North will feature presentations from CCP developers and the most impressive player presentation schedule yet seen on the world tour, as well as epic parties celebrating EVE's Canadian community.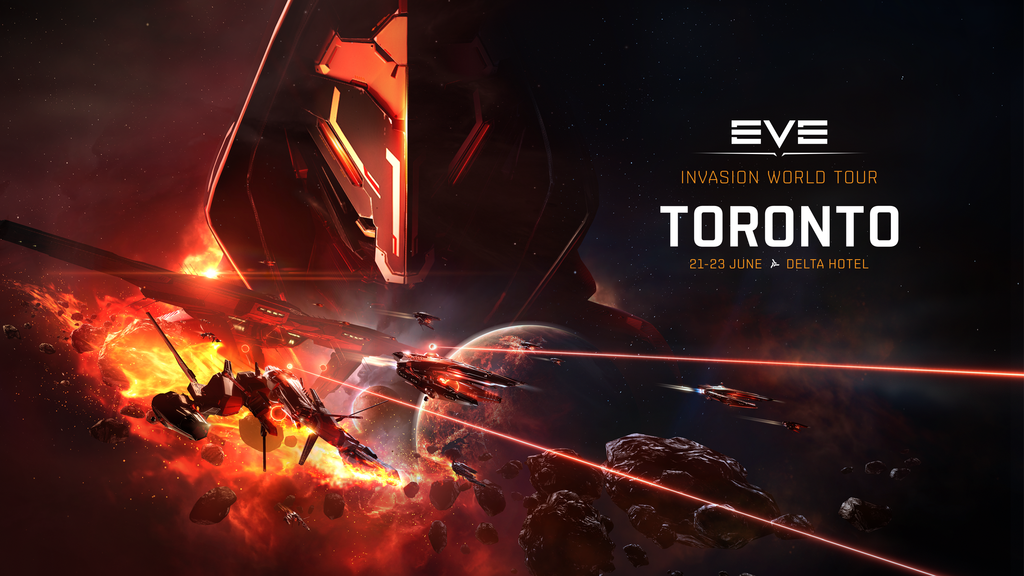 The EVE Invasion Tournament Series continues at EVE North, with each EVE Invasion World Tour stop featuring a single-elimination tournament where players can win bragging rights and PLEX. In addition, every winning team from all tournament locations will be invited for a paid trip to CCP's home in Reykjavik, Iceland, to showcase their prowess in battle and compete against each other at EVE Fanfest 2020. EVE North attendees can sign up for the single elimination 2v2 tournament here.
Future events on the 2019 EVE Invasion World Tour include:
Fanfest HOME (Player's home, Finland), August 23 @ Kimitoön. Participate via livestream; details to be announced.
G-fleet Berlin (Berlin, Germany), September 13-14 @ AltMünze. Tickets on sale now; more info to follow.
EVE Vegas (Las Vegas, USA), October 25-27 @ venue to be announced. Tickets on sale now.
EVE London (London, UK), November 23 @ Indigo at the 02 Arena. Tickets on sale August 23.
For more information please visit EVE Updates or follow the hashtag #eveworldtour on social media. EVE Online can be downloaded for free by visiting www.eveonline.com.
---
About EVE Online®
EVE Online (PC/Mac) is a compelling, community-driven spaceship MMO game where players can build and pilot a wide variety of starships, traversing vast solar systems for free and choosing their own path from countless options, experiencing space exploration, immense PvP and PvE battles, mining, industry and a sophisticated player economy in an ever-expanding sandbox. EVE is a captivating game in which hundreds of thousands of players compete for riches, power, glory and adventure, forging their own destinies in a single thriving universe. For more information, visit www.eveonline.com.
About CCP
CCP is a leading independent game developer that has been praised for its artistry, game design and unique player-driven, infinitely scalable storytelling narratives. CCP is the creator of the critically acclaimed space MMO EVE Online (PC/Mac), EVE: Valkyrie, a competitive multiplayer first-person spaceship shooter for PCs and PlayStation®4, Sparc™,an original virtual sport for PCs and PlayStation®VR where players' VR hardware serves as their sports equipment, and the Gunjack™ series, VR arcade-action games for PCs, PlayStation®VR, Google Daydream, and the Samsung Gear VR mobile platform. Founded in Reykjavik, Iceland in 1997, with additional offices in London and Shanghai, CCP is an independent subsidiary of Pearl Abyss, the creators of Black Desert Online. For more information, visit www.ccpgames.com.